On Saturday we woke up pretty early and went to the park. I met up with a cute 4month old beagle boy named Max. He was a sweetie, but kinda new to the dog park scene so I took it upon myself to show him the way of the park. After a little while he was running and chasing me and we were playing tug.
My proudest moment tho' was when I showed him how to play in the mud!!! Ahhhh.....the mud...you know I love it and I take great pride in sharing my love of the luscious brown goodness...and it was fresh too...vintage 6am I think. Ahhhh.....unfortunately his Mom wasn't impressed and every time he ventured over to the mud, his Mom would come and pick him up and than go hose him down...poor little fella.
So you're wondering where all the pictures are, aren't you? Well, Mom didn't bring the camera because it's not been working too well lately...plus it was early and quite frankly I think she forgot it.
Rest of the day I spent doing this..
So why was Mom cleaning? See we are getting a visitor! Mom's best pal Auntie Kelly is coming for a visit from Colorado next weekend and Mom wants the place perfect for her. It's going to be a super fun girls weekend...Mom and her have been devising all these plans and I just know they include me!!! I'll keep you pups posted.
On to Sunday...we started the morning chatting with a bunch of you pups. That's always so much fun and great way to start the day. Then what did we do? Well the park again!!! Yay!!! This time since there weren't any pups in the small side of the park my Weimaraner pal
Remmy
came to play with me. I L*O*V*E playing with Remmy. He chased me, but I was still faster - hee, hee, hee. His Dad and Mom just got back from their honeymoon...they looked so happy!!! It was so great to see them and I was so happy to play with Remmy!!!
After the park Mom headed off to Ikey-Ya and I got really excited because it sounded like she was going to visit
Ike
...than I got a little mad because she wasn't taking me. But turns out she went to this store called
I-K-E-A
and didn't go visit Ike. Too bad, I think visiting Ike would have been much more fun if you ask me.
So when Mom got home she had these two ginormous bags filled with stuff. And can you believe it...NOTHING FOR ME!!! What's up with that???
Ruby's Mom: Uh, Ruby, let me cut in here for a sec...I did buy you something, remember?
Ruby: Hmmm...oh, you mean these????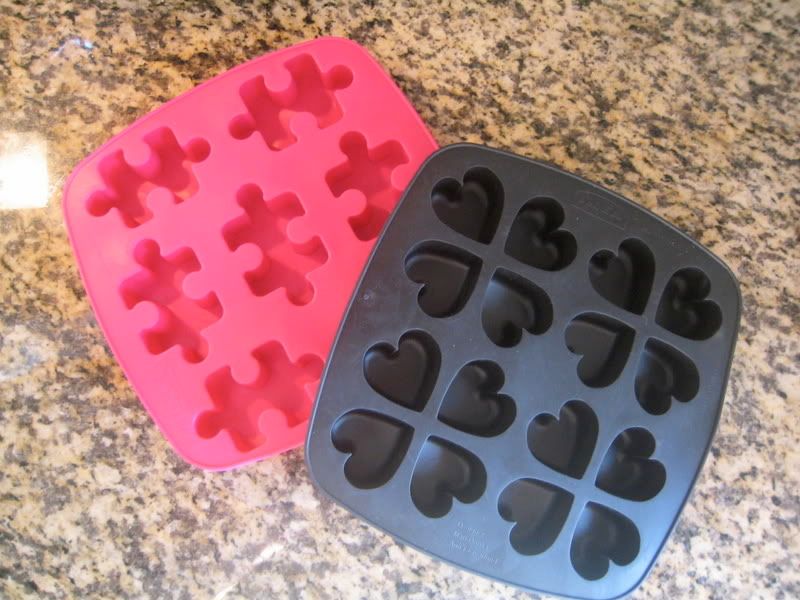 Ruby's Mom: Yes. What? Don't you like them? They are for when I make you Frosty Paws? I thought they were cute.
Ruby: OK, yeah, they are cute, but Mom, don't you know, I'm into immediate gratification, ok?
Ruby's Mom: You're sounding a tad bit spoiled there Ruby.
Ruby: Spoiled is for milk and eggs, not for cute pups like me! Hee, hee, hee!
Ruby's Mom: ***rolls eyes and walks off to fold laundry***
And that was the weekend...some laundry and more cleaning for Mom. Me...can you guess what I did? Yup...I napped some more!!! All and all, not too bad!
So I'm way behind in my tags-sorry
Lorenza
and
Coco
- I promise I'll get to them this week sometime. Oh and because of our upcoming house guest we may not be able to comment on everyone's blogs this week - but we'll do our best and certainly we'll be reading!