So my doxie pal
Lorenza
tagged me to answer 5 questions about what I like. I'm a little late to the game on this (so sorry Lorenza) but better late than never, right?
1.- Where is your favorite place to sleep?
Can I have 2? I really need to list 2. My first one is anywhere where there is sun...but mostly in the corner of my sofa (notice it's MY sofa) on my furry blankie.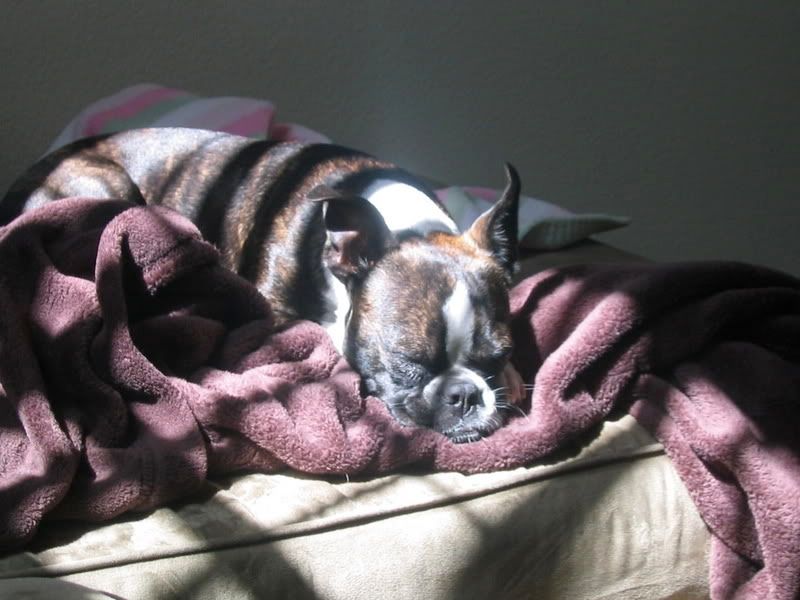 The other place is in bed snuggled under the covers right next to my Mom...that way I can protect her and keep her warm. I don't have a picture of that because we are sleeping and you can't take pictures when you are sleeping.

2.- Is there a specific trick your humans make you do to get treats?
Sometimes...I mean I do tricks and I get treats, but I also get treats without tricks and silly rabbit, trix are for kids - hee, hee, hee!

3.- If you could spend an entire day doing anything at all with anyone what would do and with whom?
OK, the perfect day for me would be...
4:30am: Wake Mom up by standing on her tummy and sticking my tongue up her nose until she wakes up.
4:30am - 5:00am: Take a walkie around the 'hood and do my 'bidness'. Also, bark at the evil sprinklers, try and chase the evil cats and try and find the crazy chickens!
5:ooam-6:00am: Bug my mom until she feeds me! This can be in the form of barking or taking one of my favorite toys and trying to convince her to play with me or heaven forbid if she tries to go back to sleep stand on tummy and stick tongue up her nose until she gets up again.
6:00am-6:15: Eat breakfast
6:15am-7:15am: Supervise Mom's wardrobe selection and ensure she has nice deep pockets that will hold LOTS of snackies. Also watch her eat breakfast...be as cute as possible to see if I can score some fruit.
7:15am - 7:45am: Power Nap --- Mom, not me. Me - stand on Mom's tummy and stick tongue up her nose until she gets up.
7:45am - 8:00am: Car ride to the doggie park
8:00am - approx 10:00am: P*A*R*K!!!! So running and bitey face and fetch and snackies and MUD!!!!!!!!!!
10:00am-10:05am: Get washed off by the dreading hose :(
10:05am - 10:20am: Drive home
10:20am-ish - 3:00pm-ish: NAP!!! In the sun, on my blankie (see above) and preferably with my Mom.
3:00pm - 3:15pm: Potty, snackie
3:15pm - 6:00pm: NAP!!!!
6:00pm - 6:15pm: Dinner
6:15pm - 8:00pm - Hang with Mom, play a bit, relax
8:00pm - 9:00pm - Walkie, hang with the pups in the 'hood, potty.
9:00pm get ready for bed

Now THAT is a perfect day for me!!! Oh and who would I spend it with...well my Mom, of course!

4.- What is your favorite toy?

That's tough...I really have so many great toys. I guess my favorite still is my
little red ball
or the new lil buddy toy my Nanny bought me.
5.- If you could change one thing in your life, what would it be?
Let me be clear...I have the best life!!! The best Mom, the best Sister, the best Nanny, the best Aunties, the best Cousin, the best BFF, the best boyfriend and most of all the best blogging buddies and pup could ever ask for. But if I could change one thing it would be the one February night where I accidentally swallowed that horrible treat.

It got stuck in my e-sloppy-gus (

Ruby's Mom: Esophagus

) and they had to give me sleepy medicine and stick this thingy down my throats to poke the horrible treat into my tummy. I had to take all this medicine and had a sore throat and didn't want to drink and than I had to have a camel back because I was de-hog-traded (

Ruby's Mom: Dehydrated

). It was not fun and what's worse is it really scared my Mom and I felt really bad about that. So that would be it. That's what I would change. But that's it...nothing else. My life is pretty much pawfect.
OK, who to tag, who to tag...how about Luckie and

Bernard

and Nanook & Pooka. If you pups haven't been tagged for this already...tell me what you likes!